LeadValu is built with simplicity in mind. It provides everything you need to draw in more prospects, gather their data, turn them into leads, and deliver measurable ROI on your events.
Qualify leads: Use the same app on your phones or tablets at each of your events. With custom surveys and automated connections to your CRM or Marketing Automation systems, post-show follow-up has never been easier or more targeted!
Simplify the capture of complete and accurate contact information: Whether by scanning the badge with your device's camera, or capturing a business card image that LeadValu human-transcribes for you.
Create any length survey: Short-and-sweet is the right answer for surveys. Ask only the questions that are relevant to that contact by using survey branching, hidden questions and real-time lead scoring.
VIP notification: Trying to meet that important contact at the show? Setup VIP notification to get instant text-message or email alerts when key individuals are scanned at the booth!
eLiterature: Save a tree, insure your message gets read after the show. With eLiterature, you can present your brochures and other marketing collateral on-screen during the event, then send an email with the pieces the attendee selects. The emails have your template and brand to reinforce your messaging, and allow you to see who has read which pieces, how often and when they were read.
Automatic system population: After the show, don't worry about lead distribution being timely or correct. LeadValu can automatically populate your CRM, Marketing Automation or other systems with the leads from the show. Give Sales instant access to survey answers, notes and all literature requests – complete with scoring to help target their efforts.
Custom reporting: How did the show go? Answer the question everyone asks by providing a custom report of lead efforts and survey responses. Available online in real-time, or as a PDF for easy distribution.
LeadValu customers lower their overall event expense while attracting higher quality leads. They can determine the ROI on their trade show investment and better target shows that make business sense. LeadValu provides the ability to report these metrics and tie exhibition activities directly to sales. With LeadValu you leave each event not with just a list of names but with a roster of qualified leads.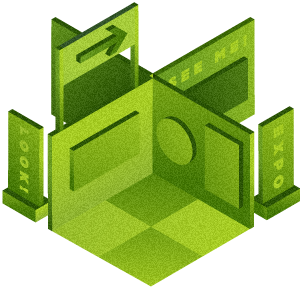 Your Business
Exhibits at dozens of trade shows and corporate events, meeting with thousands of prospects. What if you could cost effectively create more valuable encounters with those prospects;
LeadValu
Dramatically simplifies the process of driving traffic to your booth, capturing 100% of the prospects you talk to, qualifying those leads, and analyzing the metrics.
With LeadValu, You leave each event not with just a list of names, but with a roster of qualified leads